Santo Domingo – Bayahibe Dominicus – Bavaró/Punta Cana
Santo Domingo, also called "La Capital", is the capital of the Dominican Republic, with its collage of cultures and neighborhoods. This is where
the sounds of life, domino pieces slapped on tables, backfiring
mufflers and horns from chaotic traffic, merengue and bachata music blasting from corner stores are most intense. At the heart of the city
is the Zona Colonial, declared world heritage by UNESCO, where you'll find one of the oldest churches and
the oldest surviving European fortress, among other New World firsts.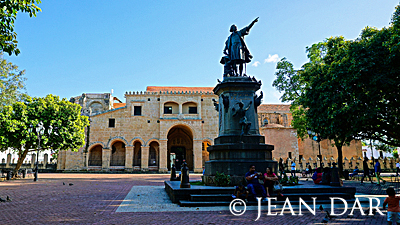 I shot the photo above on 23 February 2018, picturing the first cathedral in the Americas and the statue of Christopher Colombus in front of it. Santo Domingo is an intensely urban city, home not only to
colonial architecture dating back to the days of Christopher Colombus, but also to hot clubs, vibrant cultural
institutions and elegant restaurants. Santo Domingo somehow manages to
embody the contradictions central to the Dominican experience: a living
museum, a metropolis crossed with a seaside resort, and a business,
political and media center with a laid-back, affable spirit.

My photo above from 25 February 2018, pictures El Rey and La Reina (King & Queen) of the carnival in Santo Domingo. Two days later another parade took place here celebrating the Independence Day of the Dominican Republic. While carnival events take place around the entire country,
Santo Domingo's festivals along the Malecón are the most large-scale and
take place every weekend in February. Visitors can expect spectacular
parades, costumed performers, dancing, rum drinking, and street food.
The masks worn by the 30,000 participants in the parade symbolize good
and evil.

Where ever you go in the Dominican Republic, the beautiful scenery is never far away. My photo above, also from 25 February, shows the views to the south from Malecón across the sea during the Carnival festivities. The Dominican Republic is a poor country and theft and robbery are more or less common place here, should you not take some precausions. As always in poorer countries, don't flash your wealth in any way, cameras and phones may be carried around in a small backpack or discretly consealed on your body, and after being used put back into the backpack. The Colonial Zone is however fairly safe during daytime.

The Atlantic Princess is a popular dive in Bayahibe, see my photo
above with me inside of it on 3 March 2018. This wreck is also a superb
easy freedive in good conditions.
This wreck is also a superb easy freedive in normally good
conditions. Another well-known dive is the St. Georges Wreck andwas originally known as the M.V Norbrae but was
renamed St.
George after it was hit by Hurricane George in 1998. It was built in
Scotland in 1962 and was a 240 feet long cargo ship that was used to
transport barley and wheat between Norway and the Americas. While diving
in the wreck you will see a spectacular display of marine life.

Isla Saona is a tropical island located on the southeastern tip of the Dominican Republic. It is a government protected nature reserve and is part of Parque Nacional del Este, a popular destination for tourists from all over the Dominican
Republic, who arrive in fleets of catamarans and small motorboats on
organized excursions every day. The island is known for its beaches, on which I managed to capture a Portuguese Man-o-war on 2 March 2018, see my photo above. It is also known as "floating terror" and its venomous long tentacles deliver a painful sting, which on extremely rare occasions has been fatal to humans.

My last photo is from 6 March 2018, picturing the popular beaches at Bavaró and Punta Cana. I only stayed here for two night and basically had my hotel on the beach! This part of the Dominican Republic is highly touristic and a bit too much so in my taste, but with my home-ward bound flight departing from the Punta Cana airport, I had no other option than to realax here on my last day on my "7 weeks in Latin America" project. With plenty of all-inclusive resorts and hords of tourist, this gave me the impression it could as well have been in southern Europe and not necessary in the Caribbean.
– I currently working on the Carnaval de Barranquilla video for my YouTube channel.