Ushuaia – Bariloche – Buenos Aires
In Argentinean Patagonia you have got a few popular tourist hubs where
its really easy to arrange tours, day tours or longer ones, in order to
take in landscapes, flora and fauna or adventure sports, such as white
whiter rafting, kayaking, horse riding, hiking, mountaineering etc.
I would say that I
took in all four of the most well-known ones in Argentina: El Calafate, El Chaltén,
Ushuaia och Bariloche during my two and a half weeks in Patagonia, I also
entered Chile twice in the process. A few days in the Argentinean capital city of Buenos Aires was a good ending to my Argentinean/Patagonian leg of "7 weeks in Latin America".

My photo above is from a day tour I had arranged from Ushuaia on 31 January 2018. I stepped on a catamaran at "the end of the world" and casted
off. Beagle Channel, the watery border between Argentina and Chile, and penguins, cormorants, albatrosses and seals where all spotted during this day, as the
mountainous feature of the Chilean Tierra del Fuego loomed to the south. Its also possible to spot whales but further out from Ushuaia than I went.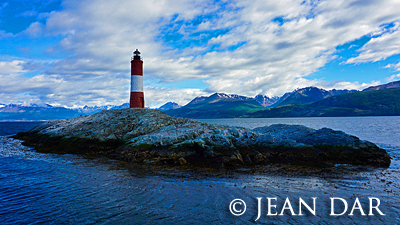 My photo above is from 31 January 2018. Ushuaia is the capital of Tierra del Fuego, Antártida e Islas del
Atlántico Sur Province in Argentina and is commonly regarded as the
southern most city in the world. It was founded on 12 October 1884 by
Augosto Lasserre and is located on the shores of the Beagle Channel
surrounded by the mountain range of the Martial Glacier in the Bay of
Ushuaia. Its motto is: "Ushuaia, end of the world, beginning of
everything".

My photo above is from 4 February 2018. It was a crazy day going to the Nahuel Huapi National Park from Bariloche in
Argentina and white water rafting the Manso River all the way into
Chile! In this photo only the skipper is still in the raft and the full
team of seven, including me, are moving fast closer to the Chilean
border among the class 3 and 4 rapids. White water rafting in Bariloche was one of first things I included in this trip and it turned out to be the best single day so far!

I took the photo above on 3 February 2018, while having an excursion from Bariloche to the Lake District. No matter where in Patagonia you end up, in the south, central or north, the scenery is just lovely. I found out that even scuba diving is available both in Ushuaia and Bariloche during the summer time, as basically as adventure sports are. Wintertime makes Bariloche a prime Argentinean ski resort. The summer in Bariloche is hot but the other locations in the south are more cooler and windy.

My photo above is from 8 February 2018, picturing the Obelisco, a prominent feature of Buenos Aires located at Avenida 9 Mayo, in the very heart of the city centre. By that time I was more than half-way through my "7 weeks in Latin
America" trip, and Buenos Aires was a hot, sweaty location with plenty of museums and attractions to see, of which I saw the most part of. Unfortunatly the Plaza de Mayo and Casa Rosada where closed during my visit due to renovations.
– I'm now taking part in the famous Carnaval de Barranquilla, Colombia.