Santos – Southern Patagonian Icefield – Perito Moreno Glacier
I'm writing this post from the very southmost city on the planet, Ushuaia in Argentina, where I'll be staying for two more days. My idea is that as much footage as possible from this "7 weeks in Latin American" travel project should be included in YouTube videos in the near future. I will also continue to post photos and info here at Ad Astra.
During the past weekend a couple of bomb blasts have killed and injured many poeple in the caribbean city of Barranquilla, Colombia. This is where the famous annual El Carnaval de Barranquilla will be held 10-13 February, and I'll be joining in, unless the whole event gets cancelled due to safety reasons.

My photo above is from 20 February 2018, showing my very close friend Jessica Beatriz in the museum of the world-famous Brazilian footballer Pelé. The museum includes personal items from Pelé, such as pairs of his football shoes and jerseys. His achievements on the pitch are just staggering, having scored 1,279 goals in 1,363 games, securing him the top spot in the Guinness Book of World Records. This is a "must see" in Santos, Brazil!

My photo above, from 21 January 2018, pictures what I guess most people associate with Brazil: mile after mile of sandy praias. This photo is of course from the Praia Gonzaga in Santos, with my hotel just across the street in fact. For millions of Brazilians the praia is almost an outdoor living room. I'm not a beach bum in any way, but I did spend a good portion of a day in the sun and the sand with Jessica Beatriz.

Leaving Santos in Brazil for the Patagonian landscapes on the 22 February 2018, I arrived in El Calafate, Argentina, in the afteroon and stepped on a minibus bound for El Chaltén. My photo above is taken between El Calafate and El Chaltén, showing Lago Viedma in the Santa Cruz Province. I got immediately fascinated by the colours of the lake, the open steppe and the beauty of the place. Patagonia really strikes a chord within me!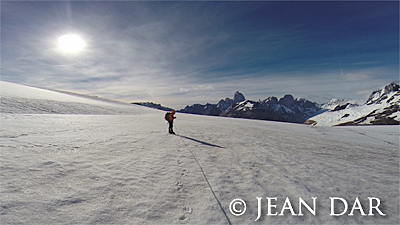 I went to El Chaltén in order to have my first mountaineering experience since my climbing accident in Ecuador on 7 December 2013. Already on the second day did I injure my left shoulder, the one that has not had advanced surgery. Obviously this put things in a new perspective and a summit push on Gorra Blanca turned into a hike on the Southern Patagonian Icefield instead, with spectacular views. My photo above from 25 January 2018.

My last photo, from 28 January 2018, pictures what probably is world's most well-known glacier, the Perito Moreno Glacier in Argentina. This glacier starts actually in Chile and the mountains on the far end of this photo are in Chile. Tours with bigger or smaller buses are arranged from El Calafate and usually takes less than 1,5 hours one way. The Perito Moreno Glacier is one of a few glaciers in the world that are actually growing. This is a sight to see!
I will start making a YouTube video as soon as possible, when not being out on a tour taking photos and taking in the stunning scenery here in Patagonia. The first one will of course be from Santos, Brazil, and I will also post it here at Ad Astra.