My last post from False Bay
Finally I got some piece of mind and time to write the last post about my South African Dive Bonanza in June-July this year. Looking back at it now, some four months later, I can only say it was a packed three week holiday that definitely took my diving to the next level.
With the last couple of dives in False Bay I was mentally prepared for the colder temperatures and also rougher conditions on the sea. All dives proceeded without any problems at all, at least for me. There was this guy from the States that had some problems on almost all his dives, like losing his weightbelt decending while adjusting it etc. Fortunatly for me, I didn't have to buddy-up with him. My photo below, from 11 July 2017, pictures corals at 28 meters depth at a location called the Sherwood Forest.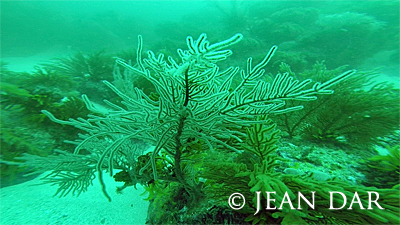 Diving at the Sherwood Forest certainly provided me with some memorable encounters, like the Longnosed Skate below that I managed to get on my camera on 11 July 2017. But like the Sardine Run, the action in False Bay could prove to be as fast-moving there, where also Cape Fur Seals are often seen checking-out divers. In my case they proved to be too fast really, and I didn't get any footage of them, even if two of them came really close on my third and final dive on the SAS Pietermaritzburg.
False Bay is probably best known for the Great White Sharks hunting Cape Fur Seals, and on occasion even breaching the surface as they come from below with great speed. Cage dives are a daily occurence here, weather permitting, and tourists flock to see those few Great White Sharks still out there. Basically all large spieces of sharks could face extinction within 20 years, mostly due to humans. My photo below is from a safety stop at the Sherwood Forest on 11 July 2017, and I had my camera ready for them jellyfishes!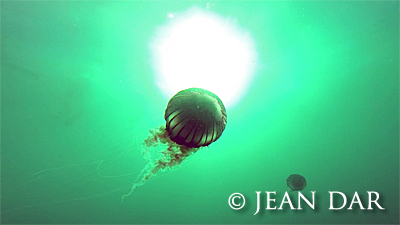 Simon's Town on the Cape Peninsula is a charming town with plenty of buildings on St Georges Street from the Victorian era. Most restaurants serve excellent South African wines and my favourite ones are located at the Waterfront overlooking False Bay. The cuisine is not surprisingly influenced by the British, with fish and chips themes shining through as well as hamburgers, sallads etc. My photo below, from 12 July 2017, is from the pier by the Waterfront showing the statue of the South African Navy's Standby Diver.
Pisces Divers is the natural choice of dive operator in Simon's Town and I did sign up for both the Sardine Run and all the False Bay dives with them. In the future I may return and do another Sardine Run with them, since I never got the underwater footage of them Cape Gannets diving into the bait ball. There are plenty more first class dive sites along the long coasts of South Africa that I find highly intyeresting. The group photo below is after my final dive in False Bay on 13 July 2017.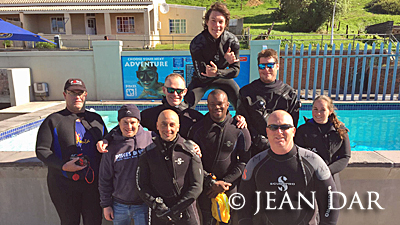 I had a really good time diving in South Africa with Pisces Divers and their arrangements and recommend their services. About accomodation, I stayed for the duration of my entire stay in Simon's Town at Simon's Town Boutique Backpackers. Its clean, neat, affordable and the location is very good, only 5 minutes walk to the Waterfront and 15 minutes walk to Pisces Divers the other direction, just next to the train station of Simon's Town.
My next grand travel project is already on the way with more or less all the locations and dates set. Its going to be a seven and a half week long trip, including five countries, climbing, freediving, scuba diving, Salsa Caleño and Marengue dancing and a lot more..