The action
is so fast you won't believe it!
I arrived
here in Cintsa, Eastern Cape Province, in the afternoon of Sunday 25 June,
having had three flights taking me from Stockholm, Sweden, to East London,
South Africa, where private transport to Cintsa awaited me. All of my
participation in this year's Sardine Run will be out of Cintsa, as this is
where Simon's Town-based Pisces Divers arranges its dives and accommodation for
the event. I have arranged so Pisces Divers brought along a new Scubapro 7/5mm
wetsuit for me, that I will buy after the Sardine Run and also use for the
deep-diving and wreck-diving out of Simon's Town the two weeks following the
Sardine Run. My photo below shows the beaches of Cintsa on 25 June 2017.
On Monday
26 June breakfast was served at 6:30 a.m. and the boat set off from the sandy
beaches soon after 7:20, us six clients being dressed up in our diving gear
ready to slip into the waters at any minute out on the seas. It was chilly and
the boat had a rough start fighting some huge waves before reaching somewhat
calmer waters further out. It seemed like only me and another guy were keen on
getting a piece of the Sardine Run action at first. We slipped into the water
and swam some 100m from the boat towards a couple of Humpback Whales, only to
see them disappear into the depths as we approached them, tough luck! I have
got some stunning photos of Common Dolphins, see my photo below from 26 June
2017.
Soon after,
we spotted formations of Cape Gannets at a distance and headed that way. This
time four of us got in the deep and murky waters. The visibility was here down
to three meters, and I saw a couple of Dolphins around us and two Bronze Whaler
Sharks circling beneath us. All of a sudden a Bronze Whaler Shark appeared out
of nowhere and with great speed, colliding with me as I was recording with my
GoPro. My photo below, from 26 June 2017, shows the moment of collision between
me and the Bronze Whaler Shark. One can see the shark's left pectoral fin hits
my camera, and out of picture, its nose ended up hitting me. Both man and shark
were unharmed in this incident.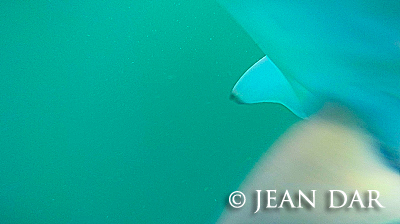 The
following day, Tuesday 27 June 2017, we started early again and headed out from
land, scouting for some seabird activity as that could indicate Sardines below
the surface and everything that goes with it: Dolphins, Sharks, dive-bombing
Cape Gannets etc. We tried our luck once again on Whales, and I did get some footage of
one diving some 5-6 meters under me in the murky waters. The footage is
not of the highest quality due to poor visibility. Again we saw large pods of
Dolphins, Bronze Whaler Sharks and plenty of Cape Gannets doing aerial
acrobatics dive-bombing into the blue for fish. My photo below pictures a
Bronze Whaler Shark circling below me in waters with poor visibility on 27 June 2017.
Due to
strong winds, rain and thunder we had to postpone all sea activities on
Wednesday 28 June 2017, and I mainly spent the day reviewing my footage but
also resting a bit. The weather improved in the afternoon. And today, 29 June
2017, we spent almost a full day out on the big blue. Not everyone did get into
the water today, but we who did tried several times to get good footage of
Humpback Whales. The boat will drop you off and you swim towards the direction
given by the guys on the boat and hoping you get some visual contact with the
Whales. That did not happen today. My photo below is from 27 June 2017,
picturing Common Dolphins and one of us divers snorkeling on the surface. I
find this photo being the best one I've taken on this trip so far!
It is common to snorkel a lot on the Sardine Run
since the action is so unbelievably fast! Once you have put on your fins and
mask on the boat and are ready to get in the water, the Dolphins and Gannets
can have moved on following the bait fish that attracts them. This could
sometimes mean 100m or more in a minute or two, giving you a hard time if getting
in the water, getting on the boat again, and setting off to the new location of
the Dolphins and Gannets. Also the visibility may vary considerably due to
this, since the bait fish along with the predators following them, dictates the
location and speed of the action. So far no scuba gear has been used by us due
to the speed and changing location of the action, but also due to the fact we
have had no indications of a huge bait ball of Sardines, that would make things
a bit more stationary or at least slow moving for a while.
– My next update will be from Simon's Town on 3 July, after the Sardine Run.