Update from the oldest city in the Philippines
Cebu City is the oldest city is the Philippines and was founded by the Spaniards. Today there are churches, fortresses and other remains from these colonial days found in Cebu City and neighbouring Mactan Island, where the international airport is situated. But some modern attractions are also available here.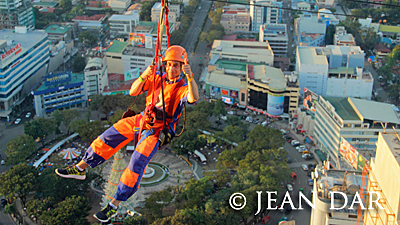 All photos in this post are from 26 December 2016. First photo pictures me riding the world's first urban zipline. The ride is a short one, spanning from Tower 1 to Tower 2 on the Crown Regency Hotel, but the views are spectacular. A combo of the Zipline and the Edge Coaster costs 750 PHP. The Fuente Osmeña Circle is in the background, and during my three visits to Cebu City I had booked accommodation in walking distance to it.
The Crown Regency Hotel has a few other attractions to offer, besides the zipline. World's first Edge Coaster is pictured on the photo above, showing me giving it a thumbs-up. This coaster can tilt up to some 50 degrees and make you have a good look at the streets below. You start the ride tilted to the max and then you can control yourself if you want to continue that way or not. The entire ride round the building takes two minutes.
The sunset is beautiful from the top of the Crown Regency Hotel, with all of Cebu City and also Mactan island in full view. On my photo above one can see that the Edge Coaster really is on the very edge of the roof. There are two restaurants in the Crown Regency Hotel and Towers, but you also got plenty of eating options near the Fuente Osmeña Circle too. During the night, the Crown Regency Hotel is lit up with colourful lights on its facade.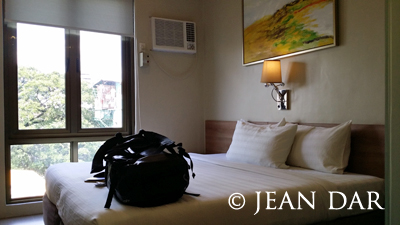 I visited Cebu City three times during my first two weeks of the Philippines & Micronesia project. I stayed at different hotels each time, and eventhough the prices ranged from US$30 to 55, all hotels I stayed at in the city were good and well managed. They were also located max 5 minutes walk from the Fuente Osmeña Circle for practical reasons. If only staying in the city for catching a flight, I recommend some accomodation on Mactan Island, which is a lot closer to the international airport.
Read more about Cebu City here: http://adastra.jeandar.net/#post432