The highest level of healthcare in Lao PDR
In general, the farther away one gets from the capital of Lao PDR, Vientiane, the less one can expect in terms of healthcare. In some rural parts of the country, where villages are not accessible by road during the rainy season, one might not find any form of healthcare what so ever. These parts of the country are also where the level of education is at its lowest, and cash might not be found at all.
At the time of my visit to Lao PDR, the official figure of how many Computer Tomography machines (CT) were found in Lao PDR was four, of which one was out of commission. As most official figures, this might not be entirely true since an accurate nationwide record does not exist. There are no machines in Lao PDR for Magnetic resonance imaging (MRI), and medical ultrasonography is used throughout most parts of Lao PDR.
By the way, Hopital is not a misspelling, but simply how the French word Hôpital is spelled in Lao PDR.
Speaking of conventional radiography equipment, more than half of all machines I saw in Lao PDR, were out of commission due to lack of funds, spare parts, or the knowledge of how to repair them. However, the one found on my photo above, was in operation at Hopital Mahosot.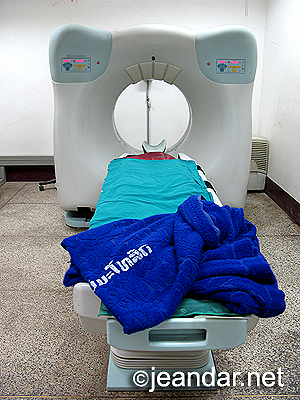 In Hopital Mahosot in Vientiane, which is the premier level of healthcare in Lao PDR, I saw a single slice CT in use, see my photo above. These machines are no longer in use in Sweden, and haven't been so for a really time now. The more slices a CT machine can achieve, the faster the examination of the patient, and more useful images are obtained for diagnostic purposes.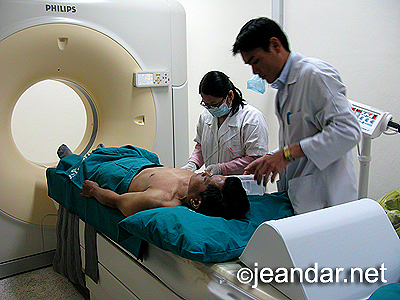 The third photo pictures the latest CT found in Lao PDR, at the time of my visit on 12 January 2012. The CT used here, is a brand new 64-slice machine that was donated to the hospital from a European donor. Lao PDR is a communist state that lacks funds for basic levels of general healthcare throughout the country. If you got money and can pay the medical bills, you may get a diagnosis if you're ill or injured. Treatment for the diagnosis on the other hand, is often not available in Lao PDR.
In the newly built wing of the Hopital Mahosot in Veintiane, one will not only find the brand new donated CT machine. The mammography machine pictured on my photo above, is also brand new and found in the same wing of the hospital as the new CT machine. Hardly any examinations of patients were conducted with this new mammography machine, since one has to pay out of pocket, and not many are covered by an insurance policy.
The last photo pictures me in the middle, my friend and fellow colleague, Emil, to the left of me, and basically the entire staff working at the radiography clinic at Hopital Mahosot in Lao PDR. To the right in this picture, one can see that they use developed film for CT-scans. 0.3 mm slices are merged into 10 mm slices on the radiographs, and who knows what pathology might be missed out by doing so. This procedure is performed mainly because they can afford only a few computers, screens and expensive digital equipment. The lack of funds is evident throughout the health system in Lao PDR.
– Only one more post from my Southeast Asian trip will be posted this month: Baiyoke Tower in Bangkok, Thailand.