Different levels of health services
In rural parts of the Khammouane Province in Lao PDR, a health centre will form the first level of the health system. The village of Sop On (see previous post here on Ad Astra) had a health centre, which really can't provide any kind of medical assistance in any serious cases of illness or injury. Traditional birth attendants, who do not have any formal medical training, are frequently consulted and traditional "medicin" may be preferred by a patient due to lack of proper medication at the health centre or the high costs involved. In Lao PDR more than 75% of the population live on less than 2 US$ per day. That's unheard of in Sweden.
On my first photo above, various death rates are pictured in the health centre of Sop On. A typical determinant of health is the under five death rate per 1000 births. This will tell how many children die before reaching the age of five years per 1000 live births. In Lao PDR, the average under five death rate is above 50. In Sweden this figure is 2.
The second photo shows the interior of an ambulance at the Nakai district hospital. It is virtually an unequipped van, with the only purpose of transporting a patient to the hospital. Not much of medical assistance to a patient may be carried out here, compared to high-income countries. It isn't even certain that the dirt roads will take the ambulance all the way to the patient and back. The costs for the ambulance ride will most certainly be paid out of pocket by the patient, since only a few have a medical insurance policy in Lao PDR.
If you are hospitalizes in Lao PDR and have no insurance policy, this may ruin the economy of the entire family. The option is of course not to seek medical attention, and suffer from illnesses and injuries that may kill you in the end. In a scenario like this, the patient may turn towards traditional "medicine" and medicinemen, as a last hope for cure and better health.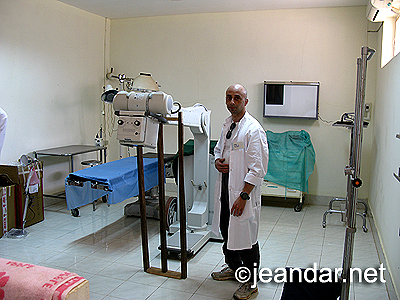 Photo number three pictures me beside an old mobile conventional radiography machine. As most radiography equipment I saw in Lao PDR, this one is not working. Lack of knowledge, funds for maintenance, and technical support, are major issues leaving plenty of radiography machines out of commission. Old machines that may be donated from high-income countries are also likely to break down without proper maintenance.
All conventional radiography machines I saw in Lao PDR were not digitalized, meaning they had to develop the film in order to obtain a radiograph. In Sweden, every aspect of the health system is highly digitalized and have been so for a decade and a half, or more.
The use of a sonography machine at the provincial hospital in Thakek is displayed on my fourth photo above. This is where one will find the best medical equipment and health facilities in the Khammouane Province of Lao PDR. Nevertheless, the medical hygiene aspect is simply uncomparable between Lao PDR and Sweden.
My last photo pictures an operation of a 40 year old female, suffering from an inflammation in her uterus. During this operation, the uterus was removed and hopefully she made a hastily recovery afterwards. In the Khammouane Province of Lao PDR, this type of medical procedure is only performed at the provincial hospital in Thakek.